Council Members
Our council members came from diverse background, and are expertise in their respective fields. The diversity of their skills lay solid foundation of the accomplishment of the Institute's mission.

Mr.Gordon Council Member - Director of Research

Mr. Syed Adeel Hussain Council Member- Training and development

Mr. Francisco de Borbón y Escasany
Duke of Seville has extensive experience in the banking sector. His presence in our council provided valuable guidance on ICRA's policy development and recognition in the rest of world.
Gordon Xu
Professor of Central University of Finance and Economics. Gordon is reknowned for his research in corporate governance and national economcy. His specific areas of focus include:
Macro economics
Corporate governance practices in contemporary China
Motivation and controls in both family and listed businesses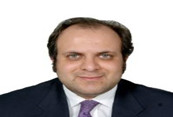 Risk management professional in banking and finance sector, areas of speciaty include:BASEL 2 Accord Implementation, Market Risk Management, Counterparty Credit Risk Management, Risk Management Manuals, Policies, Strategies and Guidelines, Financial Risk Model Validation, Quantitative Risk Analytics, Bank-wide internal risk controls, Islamic financial risk management, Portfolio risk review & rebalancing, Financial risk trainings and coaching.