Why Islamic banking is growing rapidly in Pakistan
By Farooq Tirmizi, The Express Tribune News Network
KARACHI:
Islamic banking is the fastest growing segment of Pakistan's financial services sector, a fact that has caused many institutions to pile onto the Shariah-compliant bandwagon. Yet what is it that makes the Islamic banking customer tick? Why is there such a stampede of depositors at their doorstep? And can they continue growing at this rapid clip.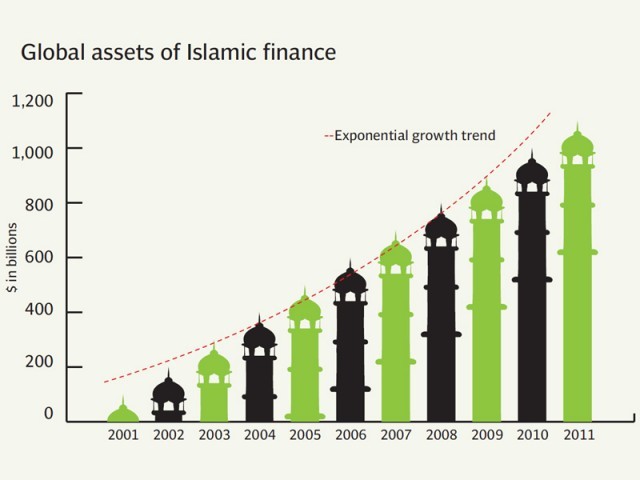 Shariah-compliance is important to most customers, but service quality appears to be more important. SOURCE: THE BANKER SURVEY
In our special report this week, The Express Tribune takes a look at what is making the Islamic financial services industry grow quite so fast. First, some of the statistics: According to data from the State Bank of Pakistan, between 2002 and 2011, deposits at Islamic banks grew at an average annual rate of 59.6%, compared to the banking sector average of 16.1% per year during that same period.
And lest anyone think this is simply the low-base effect, in the year to June 30, 2012, Islamic banking deposits grew 33.4% to Rs603 billion, a time during which the banking sector as a whole grew by a much lower 14.4%. Islamic banking now accounts for 9.4% of all deposits in Pakistan, up from virtually nothing a decade ago.
There appears to be no single comprehensive study that explains the rise in deposits at these institutions. Most of the academic studies reviewed by The Express Tribune reveal that substantial majorities of Islamic banking customers prefer the system largely owing to its perceived compliance with Shariah.
But according to a study conducted in 2008 by Naveed Azeem Khattak and Kashifur Rehman, professors at Shaeed Zulfikar Ali Bhutto Institute of Science and Technology (Szabist) and Iqra University respectively, a staggering 67% of Islamic banking customers also use conventional banks, largely due to what they perceive to be a wider range of services offered by conventional banks. Religion is important to the Pakistani banking customer, but they do not seem to be agnostic to service quality either.
This phenomenon appears to have resulted in shift in attitudes about the marketing of Islamic financial services in Pakistan. The Emirates Global Islamic Bank advertising campaign in 2009 – which implied that conventional banking customers would go to hell – was a disaster and the bank ended up being absorbed by Al Baraka Bank.
And the more recent advertising campaigns of Meezan Bank and Burj Bank appear to emphasise tradition and values rooted in Islam, but are not judgemental of those who choose not to use the Islamic banking system.
Ultimately, however, the Islamic banks seem to have caught on that simply having a bearded board of Shariah advisers is not enough. They need to compete on their service breadth and quality.
The Islamic bank CEOs who have spoken to The Express Tribune over the past three years have all emphasised the fact that their banks now offer the full complement of services offered at conventional banks. Some go even further. Meezan Bank, for instance, is the only bank in the country that offers a laptop financing scheme as a separate product.