Money laundering scam targets WA
Rebecca Trigger, The West Australian
Western Australians have been targeted in a money laundering scam which tries to trick victims into cashing fake cheques for thousands of dollars.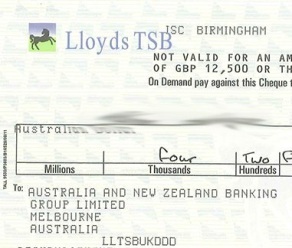 Job ads seeking "mystery shoppers" or survey agents appeared in at least two regional newspapers in February.
People who contact the advertiser were told they had been hired to assess the customer service at money transfer firm Western Union.
The victims were sent a cheque in an envelope with an Irish stamp and postmark for $4250, and told to cash it into their own bank account.
The scammers then asked the victim to withdraw the funds, deduct a fee of $450 and then go to a Western Union outlet to wire transfer the remaining money.
Local banks may clear the cheque within five days and the money might show in people's accounts but the cheque can still bounce.
People could end up thousands of dollars out of pocket, the Department of Consumer Protection has warned.
The department is aware of at least one man and a woman who have been caught up in this scam in WA, Consumer Protection spokesperson Alina Cavanagh said.
But both became suspicious and did not cash the cheques.
The postmark on the envelopes is an Irish stamp sent from the Dublin mail centre and the victims were asked to wire the money to an address in Pretoria.
Ms Cavanagh said there may have also been someone working for the scammers in WA who paid for the newspaper ads.
Names and email accounts used to perpetrate this scam recently include:
Jenny Brockfield: jbrockfieldshp@gmail.com
Andy Jones: andyjones20004@hotmail.co.uk
Anyone who has lost money in this scam or seen these ads is asked to email a scanned copy of the ad, along with details of where and when it was published to wascamnet@commerce.wa.gov .au