Asia Feels the Sting of US and UK Anti-Bribery Laws
by Abigail Cheadle and Violet Ho, Kroll Advisory Solutions, 15 August 2012
In January 2012, Japanese trading company Marubeni Corporation agreed to pay a US$54.6 million criminal penalty for the role it played in a decade-long scheme to bribe Nigerian government officials in order to obtain and retain contracts for its client, TSKJ Joint Venture.

In clear violation of the Foreign Corrupt Practices Act (FCPA), the company also entered into a two-year deferred prosecution agreement with the US Department of Justice (DOJ) and agreed to engage an external consultant for two years to review the design and implementation of its compliance program.

Earlier last year, a Japanese engineering and construction company headquartered in Yokohama, JGC Corporation, agreed to pay a US$218.8 million criminal penalty for the role it played in the same scheme, which has become known as the Bonny Island Bribery Scheme.

While at first glance this might seem to be just two more examples of corporate corruption coming to light, the events at Bonny Island hold particular significance for Asia. Despite the fact that Marubeni and JGC are Japanese companies and the officials they bribed were based in Nigeria, both organizations were still held accountable for their actions, sending a very clear message that Asian companies are not immune to the reach of FCPA prosecutors.

You might be next
Despite high-profile cases such as these, there is a prevailing attitude of ambivalence among Asian companies, many of whom continue to believe they have no liabilities under global anti-corruption acts. However, this simply isn't the case and as such, it is absolutely critical that organizations properly understand whether they are exposed to liabilities under this legislation.

Corruption Checklist: Are You Vulnerable?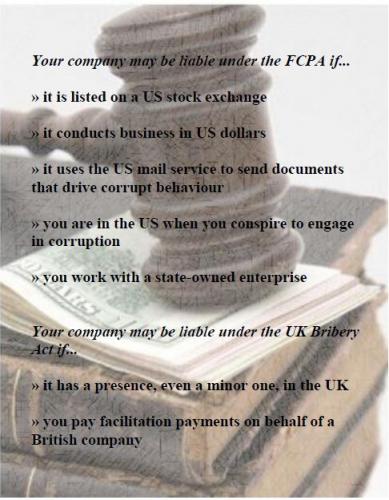 The risks of FCPA or UK Bribery Act violations are very real and extremely costly. Companies found to be in violation of this legislation face severe penalties.

And this is just the tip of the iceberg. They may also face further fines in the market where the infringement occurred as well as the jurisdictions in which they operate or are registered for violation of local laws. Post prosecution, they will also be expected to bear the cost of an independent internal investigation and engage the assistance of an external consultant to help design, implement and monitor their compliance framework.

In addition to paying fines, organizations found guilty of a violation are required to return the profit they made from their corrupt practices.

But many Asian companies believe the FCPA can't be enforced in their jurisdiction. They are wrong. Local governments are increasingly collaborating with US, UK and other regulators to allow them to access assets on the ground. In cases where Asian multinational corporations (MNCs) have operations overseas, orders can often be obtained to seize these assets. As a result, it is no longer possible to hide behind geographical barriers.

Guilt by association
The mounting costs don't necessarily stop there. The financial impact of an FCPA or UK Bribery Act violation can continue to affect future earnings for some time to come. Not only will companies likely suffer a loss in revenue due to their tarnished reputation. In some instances those found guilty may be disbarred from tendering for government contracts or risk losing their biggest clients as a result, which can cause stock prices to drop.

Even companies that are not liable under the FCPA or UK Bribery Act can pay a hefty price for corruption. Singapore plastics manufacturer JLJ Holdings saw its share price plummet following the August 2010 arrest of Apple executive Paul S. Devine, who was charged with receiving kickbacks from JLJ in exchange for providing confidential information on Apple products.

While JLJ claimed no wrongdoing and was not prosecuted under the FCPA, the fact that former employee Andrew Ang was indicted in a civil suit filed by Apple against Devine was still enough to drive the stock price down substantially.

It's not just global regulators that Asia's companies need to be concerned about. Local anti-corruption watchdogs are also growing in strength and voracity and are increasingly looking to unearth examples of corporate corruption.

Until recently, companies in Asia have taken solace in the fact that the region's governments focused their attention on prosecuting individual officials and public servants for accepting bribes. However, we are now starting to see local regulators also going after the companies that engage in these practices and the individuals who run them.

Individuals on trial
The DOJ, Securities and Exchange Commission (SEC) and the UK's Serious Fraud Office are increasingly looking to punish not only organizations, but also the individuals who perpetrate corruption. Again, this has serious implications for executives operating out of Asia, whether they work for a domestic organization or a global MNC.
In 2008, the DOJ successfully prosecuted Misao Hioki, a Tokyo-based Bridgestone executive, for his role in a conspiracy to rig bids, fix prices and allocate market shares of marine hose both in the US and elsewhere around the world. He was also charged with violating the FCPA by making corrupt payments to government officials in Latin America, among other locations, to obtain and retain business for the company. He was sentenced to serve two years in jail and pay a US$80,000 criminal fine.

At the time, Deborah A. Garza, Acting Assistant Attorney General in charge of the Department's Antitrust Division commented: "The Antitrust Division is committed to rooting out corruption that harms American consumers and the competitive process, whether the criminal conduct takes place here in the United States or overseas. Prosecuting international cartels that harm United States consumers remains the number one priority of the Antitrust Division."

This commitment has been further driven home by the implementation of the Dodd-Frank Wall Street Reform and Consumer Protection Act, which created a new program authorizing substantial cash rewards to whistleblowers who voluntarily provide the SEC with information leading to the successful prosecution of securities laws violations. These rewards are significant – between 10%-30% of any monetary sanctions in excess of US$1 million that the government recovers as a result of the information provided – we can only expect the number of violations reported will increase.

Perception versus reality
Despite substantial evidence to the contrary, there remains a significant gap between the level of liability Asian companies believe they are exposed to under global anti-corruption legislation and the risks they actually face. As such, far too many organizations continue to brush the issue of bribery and corruption under the table, despite an ever-increasing number of cases being prosecuted and a clear focus on the region from watchdogs.

Some companies are already taking steps to ensure they are not going to be the next Asian example. They are seeking professional assistance to assess their risk under the FCPA and UK Bribery Act, implementing tactical measures to minimize that risk, and conducting in-depth investigations into any violations they may have already uncovered.